Reading Ethos
Reading opens doors to an abundance of opportunities. It provides children with adventure, escapism and enriches their vocabulary ready for writing. Such a vital life skill is at the heart of the curriculum and is the key to unlocking future success. Reading at the Abbey is a high priority, not only for the children but for the staff too. Reading role models are an important influence to aspiring young readers. Having the opportunity to share enjoyment with the written word helps to promote an engagement with books and foster a love of reading.
We strive to ensure that all pupils are taught to read with fluency, accuracy and understanding. Starting from Reception where they begin from their first day with our phonics programme, working in-line with Read Write Inc, and finally our engagement with Renaissance Learning, which provides access to thousands of books online for our children to access at home, encompassing our vital home school links.
Children must have the opportunity to see themselves in the books they encounter, they must be able to find a book which relates to an experience or responds to an event that is personal to them. As a result, we have invested heavily in selecting books which not only spark their enjoyment but provide them with an opportunity to be the protagonist in a much loved graphic- novel, fantasy story or comedy adventure.
Our children are at the centre of everything we do at the Abbey Catholic Primary and we pride ourselves on listening and responding to the children's interests providing them with the chance to express their individual liberty and democratic rights to vote for their class readers. We strive to embed a culture of reading into the core of what we do and our knowledge rich curriculum has been designed to ensure that quality texts are used to allow children to make links with their learning, building upon their prior knowledge.
Our reading ethos is built upon the foundation that our curriculum has been designed to educate and form, with a mission to transform all children, for the transformation of society. With reading at the heart of this transformational curriculum we really are opening doors for children to succeed.
"The two key factors in a child's later economic success, let alone their happiness, their educational success and all the other things, are parental involvement in education and reading for the joy of it. And that's the really key thing – for the joy of it – not because somebody says so."
Cressida Cowell (Children's Laureate, 2019-2022)
Reading at Home
We know how important it is that we work together to promote a love of learning for our children, this is why our home-school links are vital to the success of each and every child.
Reading with your child at home is one of the best things you can do to support their learning.
Here are our top tips to help parents encourage every child to develop a love of reading:
Make time to read
Let your child choose what to read
Explore different reading materials
Get the whole family involved
Bring stories to life
Create fun reading challenges at home
Be positive
Be a reading role model
Share your reading success with school (sign/note in planner)
Read more:
Reading in the Classroom
We want to encourage a genuine love of reading and believe that this will extend and stretch our children's ability to learn across the whole curriculum. A love of books, words and reading for the simple pleasure of it is vital for children to become life-long learners. As such, every class places a high emphasis on 'Reading for Pleasure' each day where books are read together, discussed and enjoyed as a group.
Whole class books
Each class has a whole class book which is shared everyday. This is time for children to enjoy books together with their teacher while providing language rich experiences and opportunities to develop vocabulary and comprehension skills.
Books being read by each class are displayed outside every classroom.
Whole class reading
Whole class reading takes place from Year 2 to Year 6 on a daily basis. Texts chosen by each cohort are age related and linked to their wider curriculum. A mixture of short texts and chapter books are used covering a wide range of genres.
During these lessons children have the opportunity to listen to the texts being read by the teacher, read the text aloud to the class, read to the teacher and to read with a partner. Teachers plan and model activities covering the different reading skills, followed by children having a go at answering a range of questions and activities independently or with support. There are lots of opportunities to discuss new vocabulary and for children to discuss their opinions about what they have read.
Reading fluency
We think it is important that children have the ability to read a text accurately, quickly, and with expression. Fluency is important because it helps children to recognise and understand text. When fluent readers read silently, they recognise words automatically. They group words quickly to help them gain meaning from what they read. Fluent readers read aloud effortlessly and with expression. Their reading sounds natural, as if they are speaking. To help children learn how to become a fluent reader they follow the 6 Ps when reading.
Pitch – Vary your voice in tone, pitch, and volume.
Power – Emphasising key words to reflect the meaning of the text.
Punctuation – Long pause for a full stop. Shorter pause for a comma.
Pause – Raised tone for a question? and ! Adhering to ();… etc
Pace – Reading smoothly with a strong rhythm (not too slow or too fast and without having to self correct).
Passion – Clear expression appropriate to the text type.
Libraries and Learning Zones
Across the school there are lots of inviting places and spaces for children to find a wide variety of fiction and non- fiction books.
Every classroom has a comfortable reading zone where children can choose a book to enjoy and are actively encouraged to take them home to share with their family.
We are so excited by the arrival of our 'Book Bus'. Children now have access to hundreds of books during their break and lunchtimes.
The reading bus also offers a cosy place to enjoy sharing a story with friends.
We are always look for donations of pre-loved stories, the gift of reading is a pleasure to pass on.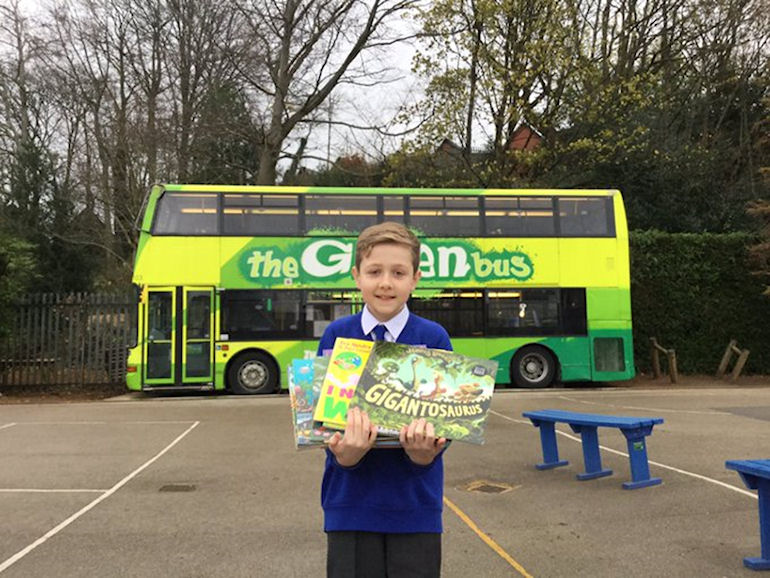 Accelerated Reader and MyON
Accelerated Reader
This is a computer program that helps teachers manage and monitor children's independent reading practice. Your child picks a book at their own level and reads it at their own pace. When finished, your child takes a short quiz on the computer. (Passing the quiz is an indication that your child understood what was read.) Accelerated Reader gives children and teachers feedback based on the quiz results, which the teacher then uses to help your child set goals and direct ongoing reading practice.
Children using Accelerated Reader choose their own books to read, rather than having one assigned to them. This makes reading a much more enjoyable experience as they can choose books that are interesting to them.
Teachers help children to choose books at an appropriate readability level that are challenging without being frustrating, ensuring that your child can pass the quiz and experience success.
If your child does not do well on the quiz, the teacher may help your child:
Choose another book that is more appropriate.
Ask more probing questions as your child reads and before your child takes a quiz.
Pair your child with another student, or even have the book read to your child.
In most cases, children really enjoy taking the quizzes. Since they're reading books at their reading and interest levels, they are more likely to be successful. This is satisfying for most children. Best of all, they learn and grow at their own pace
MyON
MyON is a student-centered, personalised digital library that gives students access to more than 7,000 enhanced digital books in the core collection. Titles are dynamically matched to each individual student's interests, age and reading level. Combined with a suite of close reading tools and embedded support, myON fosters student engagement and achievement.
Most importantly it ensures that all children have access to books at home, helping to foster a love of reading.