Parents are advised strongly to make sure that all of their children's clothing is clearly marked with their child's name. School cannot take responsibility for any items of clothing or personal possessions that are mislaid within school.
Royal blue pullover/cardigan (available from our uniform stockists). Our uniform policy does not require children to wear 'Abbey' branded tops.
Royal blue tie (available from school office and our uniform stockists)
White shirt
Grey trousers/grey knee length skirt
Black 'sensible' shoes (not trainers or fashion shoes/boots)
Black/grey/white socks/grey or black tights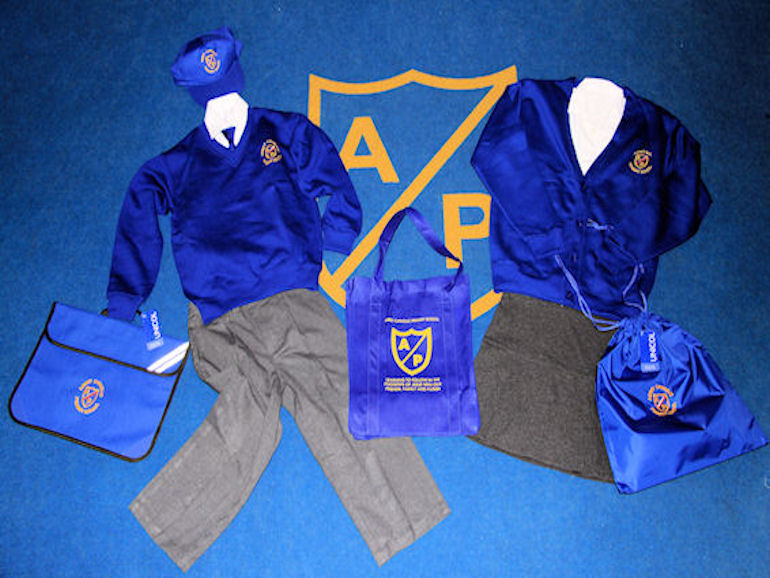 Tie
Please note that a tie is part of the school uniform and must be worn by all pupils.
Reception children need to wear an elastic tie.
Years 1 to 6 can decide whether they wish to wear an elasticated, clip-on or traditional tie.
Optional Summer Term Uniform
Grey knee length tailored shorts can be worn
Light blue gingham summer dress can be worn
Shoes
In all cases, black 'sensible' shoes should be worn as part of the school uniform – never trainers or girls fashion shoes or boots. This extends to footwear for playtime.
Forest School Kit
Reception need to have suitable waterproof trousers and jackets in school with wellies so that they can enjoy their Forest School sessions.
Forest School sessions will be timetabled throughout the year for other year bands and parents will be notified.
PE/Games for All Children
Indoor PE: Royal blue polo shirt, black shorts and plain black pumps (the slip-on type in Reception). Our uniform policy does not require children to wear 'Abbey' branded tops.
Outdoor PE: Reception children DO NOT need an outdoor PE kit.
Years 1 to 6 need a plain black or navy tracksuit for outdoor games. Labelled sports brands or 'designer' items of clothes are not allowed as part of school PE kit.
In the interests of hygiene all children are expected to change for PE/games lessons and PE/Games kits should be kept in a cloth bag and should remain in school during the week and taken home at holidays so that the kit can be washed.
Earrings are not allowed to be worn for PE. Please ensure that children who wear earrings are able to remove their earrings if they are having PE or a sporting activity. School take no responsibility for these items.
Not Acceptable
There are certain things which are not considered appropriate or acceptable:
Odd or unusual, severe, decorative or fashionable hairstyles/haircuts are not permitted.
Jeans, trainers and boots should never be worn as part of the school uniform.
Jewellery is not appropriate in school, especially ear-rings, necklaces and rings. (Girls may wear one pair of small plain studs).
Nail varnish or make up is not allowed.
Boys must not wear ear studs or ear-rings in school.
Mobile phones and electronic games/equipment are not allowed in school.
Hair below collar length must be securely tied back. This is for both boys and girls.
Hair should be tied back with a simple band or bobble. Fashion hair accessories are not suitable for school.
Children who fail to comply with such requirements and standards may be excluded from school. It is, therefore, very important that all parents ensure that children conform to the school's standards and expectations.
Stockists
Stockists who supply uniform with our school logo on:
Clive Mark Schoolwear Ltd
11-13 Boldmere Road, Sutton Coldfield, B73 5UY
Tel: 0121 728 4452
www.clivemark.co.uk
Trutex Schoolwear
23 High Street (opposite the Co-op), Erdington, Birmingham, B23 6SA
Tel: 0121 350 8444
www.crestedschoolwear.co.uk